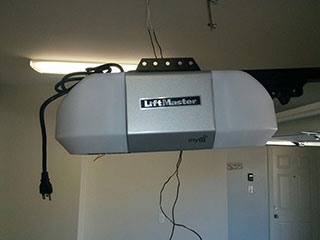 Each electric opener has its own distinct features. Their differentiations lie in the power of their motor, brand, model, and drive used. They either have a simple chain as a drive guide, a belt drive or a screw drive. These drive guides connect with the opener's motor and transfer electric power to the door, which opens thanks to the help of the door arm. Garage door openers are considered safe when they comply with the UL 325 requirements, which focus on the safety features incorporated in the operating system. They must have a release cord for the manual operation of the door in case of emergencies and also sensors. These sensors usually arrive in the form of photo eyes, which see an object under the descending door and immediately activate the reverse mechanism. This way, safety is ensured.
We specialize in electric garage operators and adeptly fix them all
The response of Garage Door Repair Lino Lakes is quick when there is urgency for opener services. When the sensors are not aligned or there is something wrong with the reverse mechanism, there is no room for any delay. We know well that the safety of your family depends highly on the quick arrival and quality of services provided which is why we are focused, well-organized, and committed. The efficient team offers immediate garage door repair and fixes opener issues with state of the art tools and great knowledge. As leading experts in Genie repair and all services related to Craftsman or Marantec door operators, perfect troubleshooting and immediate solutions are assured.
Trust our magnificent team for garage door opener maintenance that delivers utmost safety. Professionals are particularly thorough during opener inspection and verify all parts of the door operating system are meticulously checked. Any problem with the motor, photo eyes, and all opener parts for that matter is fixed at once. We are extremely careful and dedicated to servicing garage door opener systems of all brands or their models with equal excellence. When you need to trust the best and quickest opener specialists, turn to us.
Contact us for all your requests!
In addition, count on us for:
Liftmaster Garage Door Maintenance
New Garage Door Clickers & Remotes
Garage Door Torsion Spring Replacement
Emergency Garage Door Services