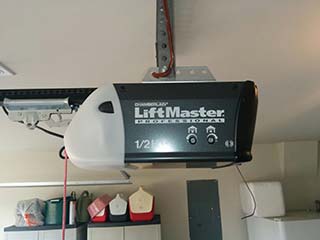 Maybe the most popular garage door opener brand, LiftMaster has some stellar options for homes. The variety of choices and features gives you more than just an automatic upgrade for the door system. LiftMaster openers can utilize Bluetooth and Wi-Fi to let you optimize and monitor the system from afar. Combined with the technological advancement of reliable motors and sensors, and you've got an excellent range of products with fantastic builds and features.
Chain Drive LiftMaster Openers
Reliable for their strong and durable builds, chain drive garage door openers can provide an excellent choice for heavy panels. The major benefits of chains are their ability to withstand heavier weights. With some occasional lubrication, chain drive openers will last for a good time and give your garage a workhorse that won't let you down. However, if noise is a sensitive subject, you might want to consider another type of garage door opener. The chain does tend to rattle and create more noise than some of its counterpart options.
Quiet Belt Drive Garage Door Openers
The silent worker, belt-driven openers will give your Lino Lakes garage door an elegant motor to operate with. The speed and silence of belt drive openers make them very popular for those who don't mind a bit pricier option. If you've got an attached garage, a belt drive opener can make for the perfect solution, as it will make virtually no noise when you use the door.
Smart Garage Door Openers
Want to check on the status of the door when you're away? With the smart technology of LiftMaster garage door openers, you've got all sorts of features you can use to keep your home secure and your garage door working great. Smart LiftMaster openers let you use Wi-Fi remote controls and even your smartphone to operate the machine. Check on it via the internet, open or close it, you can do it all. You can consult with our Lino Lakes LiftMaster garage door opener specialist to see which model and features best meet your needs. We can talk about different opener remote control options too, so you find something that provides the exact system you want. And let's not forget about wall-mounted LiftMaster openers. These utilize your garage door's torsion spring and work great for spaces with minimal backroom.
LiftMaster Garage Door Opener Repairs – Lino Lakes Service Techs
Got a problem with your opener? Troubleshooting by our professional garage door repairmen will see to it the issue goes away on the same day you call. We offer our LiftMaster garage door opener troubleshooting to all nearby areas. From repairing sensor misalignment and wiring problems to replacing motor gears and logic boards or even hardware parts, we have solutions to any issue. Call for the fastest local LiftMaster garage door opener repairs in the Lino Lakes area. With complete satisfaction guaranteed, you'll get a low cost fix any day of the week.